The Wilson Law Group Announces Fourth Annual CLE Program
The Wilson Law Group is excited to announce their fourth annual CLE program. The CLE program is taking place on September 26-27, 2023. This continuing legal education opportunity has been approved for 15 hours of CLE, including three ethics hours, in the states of Arkansas, Tennessee, and Mississippi. The program is open to all attorneys and provides a variety of CLE topics, including family law, criminal law, immigration, real estate law, business law, consumer protection law, and mental health.
This year's program is being offered in two formats: in-person and virtually via live webinar. The physical location of the program is at the Regions Center in downtown Little Rock (400 W. Capitol Avenue) on the 3rd Floor.
The registration fees to attend the CLE program are $100 (if only attending 12 hours) and $125 (if attending all 15 hours). Proceeds from the registration fees are being donated to the Arkansas Bar Association.
To learn more and register for the program, please visit: https://thewilsonlawfirm.com/cle/.
The speakers and agenda can be viewed here: https://www.thewilsonlawfirm.com/cleagenda/.
Speakers at this year's program include:
Kandice Bell
Judge Tjuana Byrd Manning
Judge Cathi Compton
Meagan Davis
Jill Kamps, Nathan McCarroll, and Margie Lickert
Rachel Klunder
Tabitha Lee
Stark Ligon
Nate Looney & Katie Pipkin
Jonathan Martin
Judge Melanie Martin
J. Cliff McKinney
Keith Morrison
Deanna Ray
Brooke-Augusta Ware
If you are an Arkansas lawyer, a Tennessee lawyer, or a Mississippi lawyer looking for an informative and educational CLE program, join The Wilson Law Group in September!
Register here: https://thewilsonlawfirm.com/cle/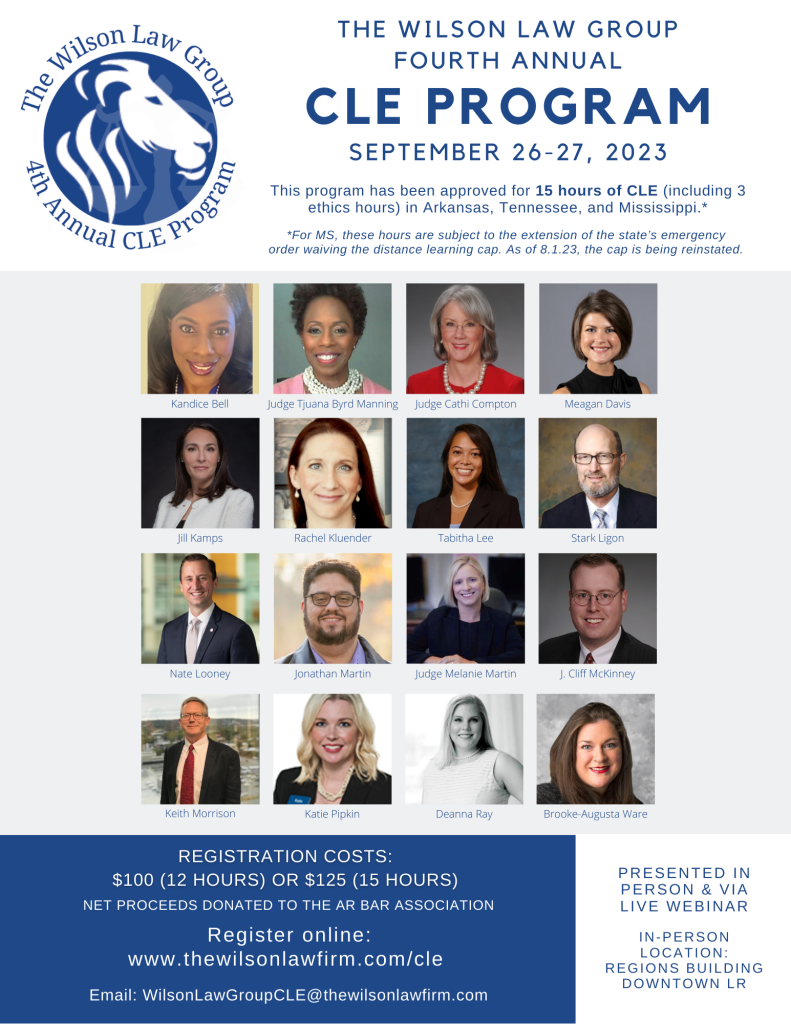 ---